Freshdesk Integration
Instantly search and share your Helpjuice Knowledge Base Articles from within Freshdesk tickets.
Contact Us
If you still have questions or prefer to get help directly from an agent, please submit a request.
We'll get back to you as soon as possible.
Overview
Freshdesk Integration allows you to instantly search and attach your Helpjuice Knowledge Base Articles to your Freshdesk tickets, switch between your Knowledge Base languages and use contact form submissions to create new Freshdesk tickets.
Installation
You can install Freshdesk integration here or simple search for Helpjuice in Freshworks marketplace. Click on install and you are ready to go.
When you visit the app for the first time, agent will be prompted for the authentication. Simple click on Authenticate button and sign in with your Helpjuice credentials.
And that's it, Freshdesk integration is now installed.
How To Use Integration?
Simply go to your ticket and click on Helpjuice app.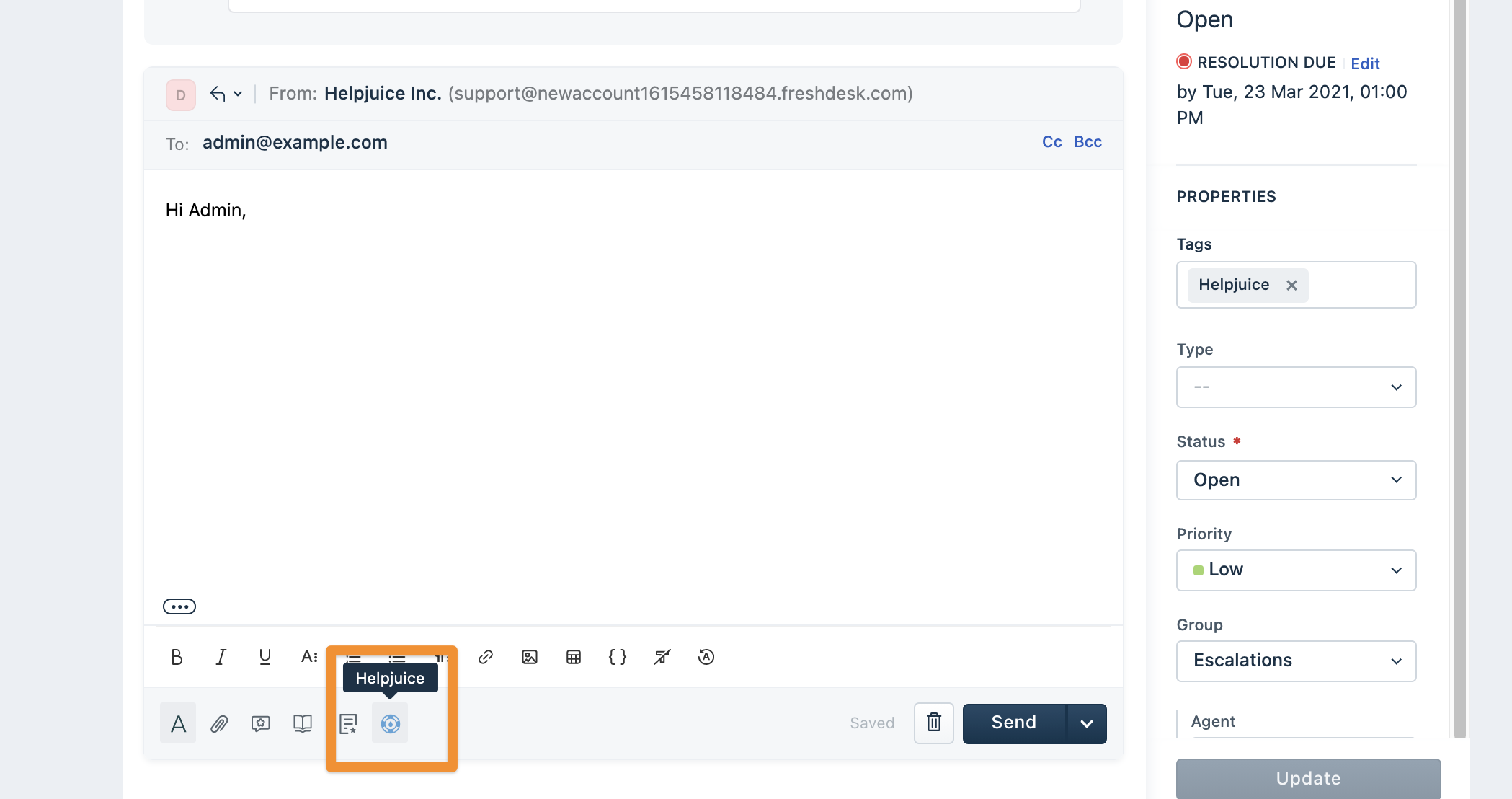 The app will open on the right side of your screen.
Search for an article and click on Attach to Ticket and your article will be added to your ticket reply. If your Knowledge Base is multilingual you can easily switch between languages from languages dropdown.
How To Use Contact Form Submissions To Create Freshdesk Tickets?
In order to use contact form submissions to create Freshdesk tickets you need to enable it in settings. In your Helpjuice account go to your Settings page and under Integrations click on Freshdesk. 
Enable Create new Freshdesk Tickets from Contact Form Submissions and add your Freshdesk Api Key and Helpdesk Name. Save your changes and you are good to go.
Everytime a new contact form submission is added a new Freshdesk ticket will be created with Helpjuice label on it.